Here's what's going on in my world.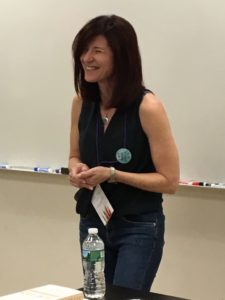 May 18, 2017
School visit with 4th and 5th graders at Tyngsborough Elementary School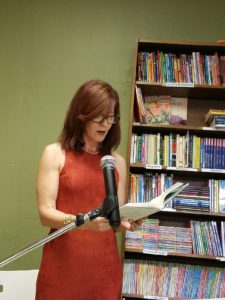 June 9, 2107
Barnes and Noble, Framingham – 7pm, Book Fair with Cameron Middle School, Guest author.
July 10-12, 2017
NerdCamp MI
Featured author at NerdCamp MI. Excited to learn, get inspired and lead some workshops for educators, authors, and an amazing group of NerdCamp Jrs.
November 4, 2017 
NerdCamp LI, Boyd Intermediate School, 286 Cuba Hill Road, Huntington, NY 11743
November 16-19, 2017
NCTE Annual Conference, St. Louis, MI
I'll be participating in two panels.
Revision Toolbox – Practical Strategies to Engage the Reluctant Writer, 11/17 @ 12:30
Cultivating Classroom Writing Communities: Practical Ideas From the Pages of Authors' Lives, 11/19 @ 8am
January 30, 2018
SMART COOKIE finds its way into the world!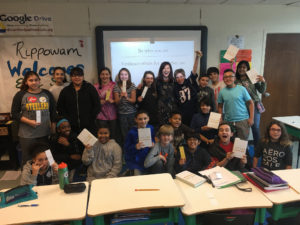 Past Events
March 4, 2017, 2-4
Pembroke Public Library with Monica Tesler, Erin Petti, Lee Gjertsen Malone for a middle grade panel discussion.
March 9, 2017
Oxford Elementary School, Oxford, ME. Workshops and reading with 5th and 6th graders.
March 25, 2017 at 2
Westwood Public Library with Victoria Coe, Monica Tesler, Erin Petti, Lee Gjertsen Malone, Bridget Hodder for a middle grade panel discussion.
April 22 & 23, 2017
NESCBWI – Springfield, MA
I'll be presenting 2 workshops:
April 22: Finding the Authentic Voice – Writing What You Don't Know
April 23: Go On, Delete Your Favorites – Revising with Purpose
January 5, 2017
Introduced The Unfolding Identity Project to Mr. Jimmy Sapia's students at Rippowam Middle School for a 60 Minutes segment on Scarlett Lewis and the ChooseLove program.
January 23, 2017
School visit with the students Rippowam Middle School, Stamford, CT.
February 4, 2017 at 5
University Bookstore, 4326 University Way, NE, Seattle, WA for book reading and signing and Q & A.
February 11, 2017
Wellesley Books with Victoria Coe, Monica Tesler, Erin Petti, Lee Gjertsen Malone for a middle grade panel discussion and book signing.
February 27, 2017 at 3:30
Millburn Public Library, Millburn, NJ for book reading, signing and lots of Q & A.
December 12, 2016
School visit with the students at The Atrium School, Watertown, MA.
November 17-20, 2016
NCTE Annual Convention – Atlanta, Georgia.
I'll be participating in a panel discussion on 11/18 4-5:15– Bibliotherapy: Advocacy on the Page and in the Classroom, with authors, Lynda Mullaly Hunt, K.A. Holt, Erin E Moulton, Anne Nesbet, and educator Paul Hankins. Here is the link to the Bibliotherapy Booklist the panelists have compiled. We'll be in Georgia World Congress Center, Room B407.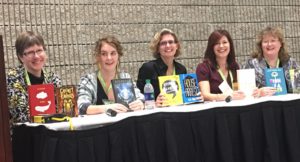 And, I'll be signing books at Macmillan booth #212 on Saturday, 11/19 from 9:30-10:00am. Come on by!
November 12, 2016
Book signing at Indulge! 16 Lincoln St, Newton Highlands, MA 02461
Stop by Indulge Candy on November 12th. Wellesley Books will be on site selling FINDING PERFECT, and Elly will be signing copies from 2-4. At 3, Elly will read an excerpt from the story.
November 5, 2016
nErD camp Long Island – Jericho, Long Island. So excited to connect with so many rockstar educators!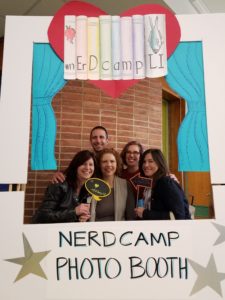 October, 22, 2016 
FINDING PERFECT Book Launch,4pm at Wellesley Books, 82 Central Street, Wellesley, MA 02482. You're invited. Join me!
September 20, 2016
New England Independent Book Sellers Association Author reception – 6-7:30 Rhode Island Convention Center Ballroom, Providence, Rhode Island. If you're a NE Indie, please stop by my table and say hi! 
Summer, 2016
Bunkreads – FINDING PERFECT is going to camp! Bunkreads is a book discovery program taking place in a select group of camps in Maine, Summer 2016. Read all about it in Publisher's Weekly.
Finding Perfect is a FSG Library and Marketing staff pick for fall 2016.