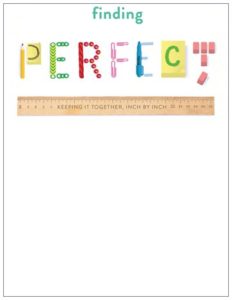 Get ready! Fall is here and FINDING PERFECT is coming to a bookshelf near you on October 18th, 2016!
Truly, I'm excited. And so grateful.
So, I'm doing a FINDING PERFECT Pre-order Giveaway with my local independent bookseller, Wellesley Books. Pre-order FINDING PERFECT from Wellesley Books before my book launch and get a FINDING PERFECT notepad and a personalized, signed copy of my book shipped to your door!
Here's how it works:
Order FINDING PERFECT with Wellesley Books here before my book launch on 10/22/16.
Note your signing/personalization request in the Order Comments box located at the very bottom of the Checkout page. For example, "Happy Birthday, Molly!"
You'll have the option to have the book shipped or held at the store.
Any questions, just reach out to me. Happy to chat!