School visits. I love to visit schools and would love to spend time with you and your students. The workshops I offer are set out below. If you're interested, simply reach out.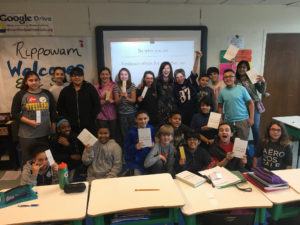 "To say Elly Swartz's school visit was energizing and engaging would be an understatement.  During her visit to my classroom at Rippowam Middle School, you could feel her enthusiasm and appreciation.  The authentic connections she made with my scholars,  not only taking questions about our read aloud, "Finding Perfect," but by sitting as a community on our carpet and reading a chapter from "Finding Perfect" was appreciated by all students.  Elly shared about her ups and down on her journey in the writing industry, which sent such a positive message to students about following your dreams and never giving up for what you believe in.  Her presentation about empathy was beautifully aligned with her "Unfolding Identity" project.  Her natural ability to relate and connect with students was evident in all her interactions throughout the day.  She signed "Finding Perfect" books during lunch and autographed many bookmarks as well.  Her visit was so successful that my students and I are are still talking about it today!"
–Jimmy Sapia, 6th Grade Individuals and Societies Teacher
Rippowam Middle School, CT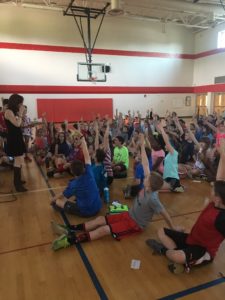 Skype visits. I also love to connect via Skype. I'm happy to do a free Skype visit with your class or book club. Let's talk.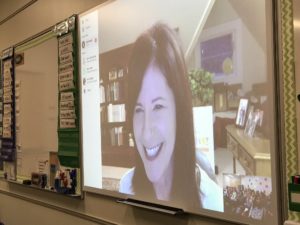 "Elly Swartz is fantastic with middle grade students! Elly graciously answered all of my students' questions and took the time to explain what her days are like as a writer. She spent time explaining how important revisions are during the writing process – something my students desperately needed to hear from a professional writer. Thank you, Elly!! My class adores you and is still talking about your visit!"
-Amber Kuehler, 4th grade Fairmeadows Elementary, West Des Moines, IA
"We were so fortunate to have Elly Skype with our 4th grade students.  Elly was so engaging to speak with and really took the time to talk to all of the students.  The message she shares in a visit is so important for this generation to hear and think about."
– Michele Knott, Literacy Specialist, Meadowview School, 4th grade, Grayslake, IL
Workshops I offer:
Who are you?  – A workshop on identity and teaching, embracing and promoting empathy.(This workshop includes the unfolding identity project.) 45-60 min.
In this interactive workshop, we'll focus on identify, self-awareness, and empathy. All themes embraced by the characters in Finding Perfect. And, while Molly's situation may seem unique, we're all a little like Molly—the person we present to the world is not always in perfect alignment with the person we are inside. With the elementary and middle school students, we'll tackle the unfolding identity project, where we'll explore folding and unfolding our identity. We'll begin with a writing exercise. You can download the full exercise here. Through this project we will discover how we view ourselves—what we believe, our strengths/weaknesses, fears, dreams, interests, and viewpoints, and how we feel others perceive us—who we are, what we believe, our strengths/weaknesses, fears, dreams, interests, and viewpoints. In the end, we will see how no one is just one thing. Together each student is a blend of attributes, inside and out!
With middle school classes, we will also take the identity discussion on line. What does your on line profile and pictures say about you?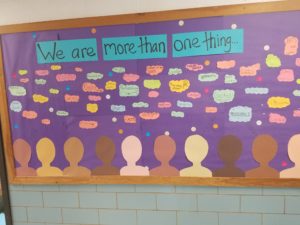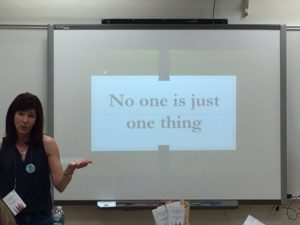 Tell Me a Story – A writing workshop on POV. 45-60 min.
In this interactive workshop, we'll be talking point of view and authenticity in writing. Finding Perfect is written in Molly's 1st person POV, but it wasn't always that way. We'll read an early draft of Finding Perfect written in alternating 1st person POV between Molly and Hannah. We'll see how many differences we can spot between this draft and the final book, and what we learned about the characters through this process.
We'll talk tips on creating authentic characters and will wrap up with a group exercise. We'll pick two characters from Finding Perfect or another book of the classroom's choosing and write an original poem or scene in two points of view. For instance, Molly and Ian's POV's on Mom's absence or Molly and Hannah's POV's on the walk to school where Molly freezes or Kate and Molly's POV's on the beaded necklaces or Perfect Molly and Other Molly's perspectives on the math test. The dual perspective will not only further the students' understanding of POV in books, but the activity will also increase their awareness of the unique lens we each see the world.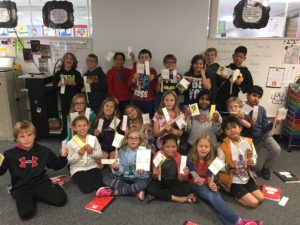 But It Doesn't Rhyme – A workshop on poetry. 45-60 min.
In this interactive workshop, we'll talk about writing poetry and the difference between Me Poems and Slam Poems. In Finding Perfect, Molly writes both types of poems. Why? What unique purpose does each form of poetry serve? Then we'll have a chance to embrace our inner poet. The kids, and me, of course, will need to finish the thought Perfect is… with any form of poetry. The class will wrap up with a lively poetry reading/performance.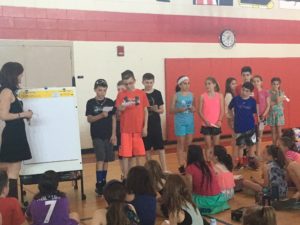 Fees for school visits are available here.