.
My Books
Smart Cookie
(Scholastic 2018) – Coming 1/30/2018
When your family is missing an ingredient, you have to get creative.
SOMETIMES YOU NEED TO KEEP A FEW SECRETS.
Frankie knows she'll be in big trouble if Dad discovers she secretly posted a dating profile for him online. But she's determined to find him a wife, even if she ends up grounded for life. Frankie wants what she had before Mom died. A family of three. Two is a pair of socks or the wheels on a bicycle or a busy weekend at the B&B where Frankie and Dad live. Three is a family. And Frankie's is missing a piece.
But Operation Mom is harder to pull off than Frankie expects. None of the Possibles are very momish, the B&B's guests keep canceling, Frankie's getting the silent treatment from her once best friend, and there's a maybe-ghost hanging around. Worst of all, Gram and Dad are definitely hiding secrets of their own.
If a smart cookie like Frankie wants to save the B&B and find her missing piece, she's going to have to figure out what secrets are worth keeping and when it's time to let go.
---
(FSG)


To Molly Nathans, perfect is:
The number four
The tip of a newly sharpened number two pencil
A crisp, white pad of paper
Her neatly aligned glass animal figurines
What's not perfect is Molly's mother leaving the family to take a faraway job with the promise to return in one year. Molly knows that promises are sometimes broken, so she hatches a plan to bring her mother home: Win the Lakeville Middle School Slam Poetry Contest. The winner is honored at a fancy banquet with table cloths. Molly's sure her mother would never miss that. Right…?
But as time goes on, writing and reciting slam poetry become harder. Actually, everything becomes harder as new habits appear, and counting, cleaning, and organizing are not enough to keep Molly's world from spinning out of control.
In this fresh-voiced debut novel, one girl learns there is no such thing as perfect.
"First-time author Swartz creates a clear, moving portrayal of obsessive-compulsive disorder through the authentic voice of middle schooler Molly Nathans." –Publisher's Weekly
"…[T]his first-person narrative of an increasingly common behavioral-health issue will undoubtedly be a useful tool for both classroom and group discussion. While there are several good books about OCD for teen readers, few are available for middle graders, and this is a welcome addition to the fold." –Kirkus
"With middle school friendships and family relationships at its heart, this novel offers an empathetic guide to coping with a mental health issue. VERDICT Swartz adds to the growing list of fiction titles that raise awareness of differences and promote acceptance; a strong purchase for most middle grade and middle school collections." –SLJ
"With intense and insightful depictions of Molly's thoughts and subsequent actions, Swartz renders Molly's decline into full-blown OCD visceral and sympathetic…. This is a powerful but not overpowering novel, informing audiences about OCD with tact and acceptance through an accessible and relateable cast of characters…. This is one for preteens struggling with the desire for perfection in this imperfect life." –BCCB  
"…the exploration of OCD is thorough and compelling, and the book is as well researched (including a list of consulted resources) as it is gently written." –Booklist
"Elly Swartz's extensive research into Obsessive Compulsive Disorder is evidenced by the authenticity of Molly's voice and perspective. Readers will share in Molly's journey from pain to healing in this excellent debut novel. – School Library Connection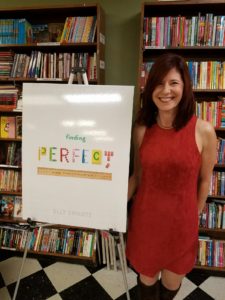 Selected as Hot Title of 2016 by NECBA
Voted one of the best middle grades of 2016 by: Books Between Podcasts, All the Wonders, KidLit Drink Night Podcast, Beth McMullen Books.
Winner of a Nerdie Book Award for Best Middle Grade Fiction, 2016
Global Read Aloud contender 2017
 **Finding Perfect deals with the issue of Obsessive Compulsive Disorder. A thorough resource list is provided at the end of the book. For other books dealing with issues and challenges often tackled in bibliotheraphy, feel free to explore the  
Bibliotherapy Booklist
 compiled by Lynda Mullaly Hunt, Kari Anne Holt, Anne Nesbet, Erin Moulton, Paul Hankins and me for our 2016 NCTE panel.
---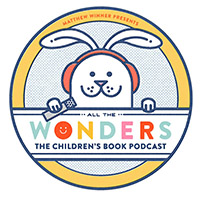 Elly Swartz stops by the All the Wonders podcast to talk to Matthew Winner about listening to her characters, listening to her heart, and following your dream. Listen to the Podcast below.